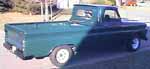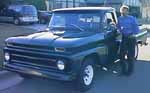 Bud, Jack & Ted's Alaska Adventure
FRAMES version

Page | 1| 2| 3| 4| 5| 6| 7| 8| 9| 10| 11| 12| 13| 14| 15| 16| 17| 18| 19| 20| 21| 22| 23| 24| 25| 26|

---
Prev <--- Alaska Trip Page 1 ---> Next


The 58 Cessna 172 (N8715b) nestled in
with the "Big Iron" at Yingling
The family was speculating as to the time of their arrival in Wichita, but about 6:45 pm the phone rang and Bud & Jack were ready to be picked up at Mid-Continent airport. I had talked to Dennis Simmons (Yingling Aircraft Service Mgr) and he said there would be space in their hangar for an overnight stay. After seeing to the refueling (Jack wanted only 30 gallons to ensure not being over gross weight), we returned to my house to spend the night.

The culprits planning the flight
Back to the house for our luggage and flight planning for the first destination of Valentine, Nebraska to deliver a present to a friend. In the process of flight planning, we were using the Garmin GPS, Jack's & my computer. To save weight we had planned to take only one, but we were to discover later that we had brought neither of our E-6B computers!!

Dennis Simmons rollin' it out
We got a good picture of 8715B nestled in the Yingling hangar beside the "big-iron", before towing it to my hangar for the check-up. His airplane is a 1958 172 with the 0-300 Continental, and since mine is a 1967 with the same engine, we expected close similarities.

Just a little maintenance required before heading north
After removing the upper & lower cowlings, the one oil leak he had noticed was on the forward left cylinder (#6). Using the cylinder wrenches that were borrowed from Hardy Daniel, we rechecked the torque using values obtained from Yingling. The uppermost forward nut was indeed less than specified and was re-tightened. (Later on the trip, no further indication of oil leaking here, so this apparently did the trick). There was oil at the back of the engine and a fews small drops were clinging to the bottom of the alternator. We wiped down the engine to assist in looking for sources and since the amount being consumed (either by the engine or a leak) was about 1 quart every 4 hours, we concluded that it was not a serious leak. We also spent some time reviewing how the cabin air & cabin heat worked since the cabin air appeared to be inconsistent in its operation. We discovered that the cable sheath had been pushed back out of the panel mount causing the "one-way" action. Being unable to get at it to re-crimp it, we decided to leave the cabin air full on and vary the cabin heat (which worked fine) as required.
Prev <--- Alaska Trip Page 1 ---> Next
---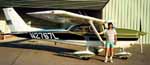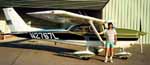 Page | 1| 2| 3| 4| 5| 6| 7| 8| 9| 10| 11| 12| 13| 14| 15| 16| 17| 18| 19| 20| 21| 22| 23| 24| 25| 26|
| Home | Links | Store | Vendors | Events | Forum | Specs | Pics |
Ancil T. (TED) Davis
atdavis1@cox.net
Last Update 05/02/97 Hits: